Our outstanding customer feedback ratings proves that we value every customer and guarantee FIT 100% satisfaction.

On this page you will find the tools needed for proper fitting of Viktor Sabo Designs.

Our products are hand crafted using old fashion Standard Imperial Measurements of Inches. We have provided you with a calculator to convert from Metric Measurements of Centimeters to Inches. For your convenience, we have also provided a measuring tape in inches.
---
Printable Measuring Tape
If you don't have a measuring tape, simply use the printable measuring tape or take a piece of ribbon or string and line it up against a ruler or yardstick.
Printable Measuring Tape Click Here>>>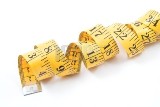 ---
Convert Centimetres and Inches
Directions Enter length in box to be converted. Select either inches or centimetres button. Press "convert" button to see result at bottom of calculator.